Achieve Top-Notch Connectivity Precisely Where and When it's Needed
Venues of all sizes struggle to keep up with customers' demands for connectivity. But not all deployment architectures are equipped with resilient power for wireless connectivity, leading to time-consuming and expensive electrical overhauls. Whether it's 4G LTE, 5G, CBRS, or Wi-Fi, your infrastructure has to keep visitors connected. Instead of relying on traditional, underpowered energy solutions, see how Digital Electricity™ powers top-notch connectivity where it is needed for optimal signal coverage and capacity.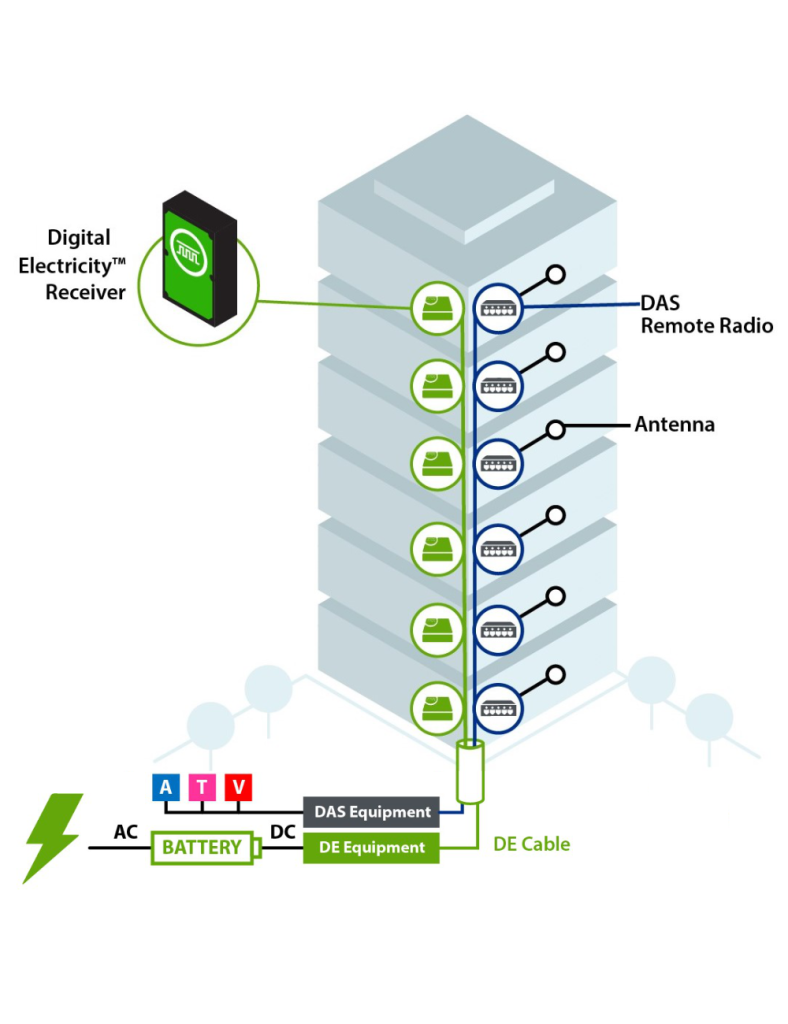 The 5 S's of
Digital Electricity™

for Wireless
The Digital Electricity™ platform is an economical, efficient, and and safe method for powering remote radios or access points used for high-speed wireless connectivity.  Digital Electricity™ provides the power levels of AC with the safety, convenience, and cost of low-voltage Power over Ethernet (PoE). Trust Digital Electricity™ to run power to even your most power hungry and difficult to reach remote radios and access points.
PoE cannot provide the higher power or longer distances from the power source that the most remote radios require. The remote radios consume hundreds of watts per device, to provide multiple frequency bands below 6GHz , and ultra-wide massive MIMO in the mmWave bands for 5G.  The cable lengths can easily exceed 1,000 feet. 

Although more people are demanding a high capacity 5G connection, 5G mmWave only covers short distances from the radio. This requires more remote units at each venue to ensure seamless connectivity.  In addition, these remote radios need to be placed for optimal RF coverage, not where the power is conveniently located.  Provisioning dedicated AC power drops for each of these devices can be a massive undertaking – with significant budget and scheduling consequences.
Digital Electricity™ is also easy to install, which means you can set up and power your network faster to get your customers connected ASAP.

Digital Electricity™

powers 4G, 5G, and Wi-Fi connectivity for the biggest game of the year at Hard Rock Stadium
Efficient connectivity for any venue.
Whether your building is an office, hotel, airport, school, or hospital, you rely on mobile communications to run smoothly. VoltServer provides resilient, reliable power when, where, and how you need it.  You can find VoltServer in hundreds of buildings across the globe.