WHAT IS
DIGITAL
ELECTRICITY
?
If you're Nikola Tesla, you get it. If you're Thomas Edison, maybe you don't.
We're not all as smart as Tesla, but Digital Electricity might be simpler than you think.
You can use Digital Electricity for:
It's revolutionizing the future of energy.
There has not been much innovation around electricity since Tesla and Edison battled it out in the late 1800s. VoltServer's Digital Electricity™ is a groundbreaking new way to distribute power. Digital Electricity™ allows for controlled power distribution that is safe, less expensive, faster to install, more energy efficient, and meets the needs for an increasingly digital world.
Digital Electricity™

is a line powering system.
Line powering is a means of energizing remote equipment, from a centralized location, over
structured copper cable.
Digital Electricity™ systems offer the convenience and safety of low-voltage, like Power over
Ethernet (PoE), with the power and distance capabilities of AC.
The technology leverages our patented packet energy transfer to deliver significant power over significant distances. The technology splits energy into packets and transfers hundreds of packets each second from a Transmitter unit to a Receiver unit. Safety is continuously monitored after every packet and if there is a fault such as improper wiring, a short circuit, or a person is touching the transmission lines, the transmitter recognizes the condition in milliseconds and halts the transmission of packets. The result is safe electrical transmission at high power levels and an inherent ability to digitally control a host of modern electronic devices connected to the distribution system.
Discrete "packets" of electricity, every packet is checked for safe transfer from transmitter to receiver. Each packet contains only a very small amount of energy which is not harmful to people, animals, systems, or buildings. The VoltServer products are listed and certified to safety and EMC standards by a Nationally Recognized Test Laboratory.​
The Benefits of
Digital Electricity™

Technology
VoltServer's technology is installed in marquee venues around the world including:
Sports Stadiums and Arenas
Class A Office Towers
Hotels and Resorts
Airports and other Passenger Terminals
Macro towers, Rooftop macros, and Small cells
Warehouses and Manufacturing facilities
Industry Leading Controlled Environment Agriculture Facilities
Digital Electricity™

systems offer the benefits of low-voltage with the power and distance capabilities of AC.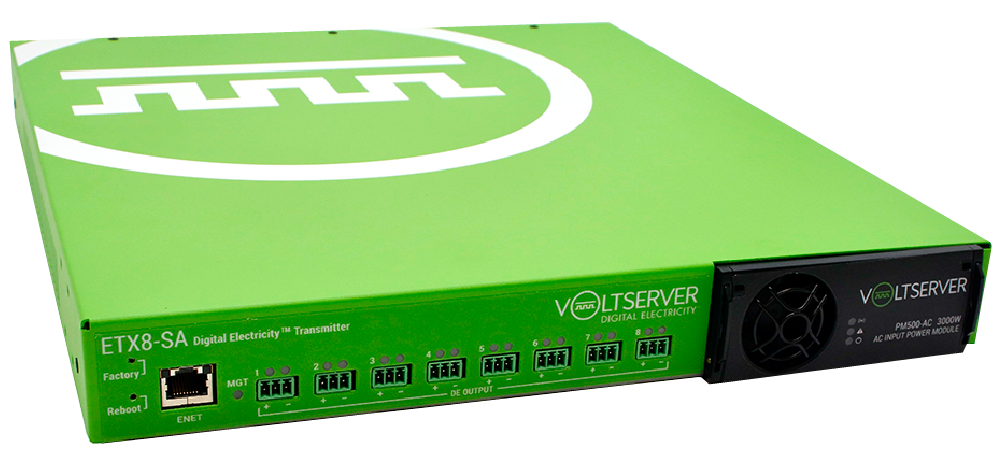 Digital Electricity™ systems are a proven line-powering technology listed to IEC 62368-1 as a Limited Power Source which allows installation using standard multi-conductor cabling, typically without conduit, while conforming to the NEC and CEC Code standards for building installation.
Digital Electricity™ qualifies to use Class 2 wiring methods but has significant power capacity to directly energize high-power devices. Digital Electricity™ cabling can run alongside or together with fiber in both vertical and horizontal spaces to deliver power to remote devices.
The Digital Electricity™ technology allows unparalleled construction, performance, and safety advantages over any alternative power method.